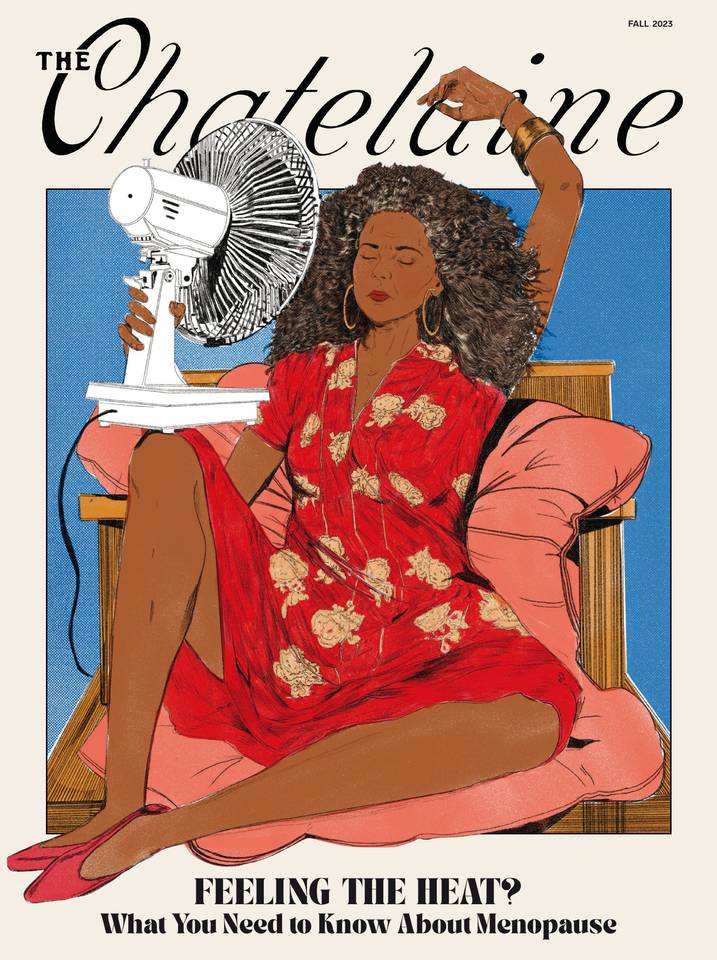 As Canada's largest women's brand, Chatelaine provides Canadian women with fresh, thought-provoking perspectives and inspired lifestyle solutions.
Summary
On Menopause
TO SAY I LEARNED a lot from editing our menopause package—"We Need To Talk About Menopause," page 48—would be a *big* understatement. For starters, I didn't know that heart palpitations can be a...
Read More
September 2023
IN EVERY ISSUE
On Menopause
TO SAY I LEARNED a lot from editing our menopause package—"We Need To Talk About Menopause," page 48—would be a *big* understatement. For starters, I didn't know that heart palpitations can be a...
CREATED FOR LG ELECTRONICS CANADA
How to host a dinner party like Anna Olson
Discover celebrity chef Anna Olson's top tips on how to make entertaining seamless and stress-free. Good friends crowded around the table, sharing great food and laughs—there's nothing better than a...
THE DISH
Elote Chowder
PREP 20 MIN; TOTAL 40 MIN SERVES 6 Years of living in Mexico City left me with a profound appreciation for elotes and esquites—street corn and a corn-based dish with kernels and melted...
A Quick and Safe Way to Get Kernels Off the Cob
There are plenty of sworn-by tricks for getting kernels off a fresh cob. We think this method is quickest, uses minimal equipment and is safest for your fingers 1 Place a tea towel underneath a large...
Her Own Way
This maximalist isn't afraid to go the distance when it comes to style Anna Heyd annaheyd 42, Vancouver "You can wear whatever you want as long as you wear it like you mean it" is a piece of fashion...
You're Gonna Fall…
...for these 11 new releases, which provide the heart and heft we look for at this time of year. We're talking about engrossing family sagas filled with secrets, literary dramas, emotional excavations...
Bonding Time
Bleach, dye, hot tools, aggressive brushing—they all take a toll on your hair and can even damage the invisible bonds that give it its strength, elasticity and shine. Previously only available in...
Add Colour to Your Home
Could your space use a refresh? Here's how to brighten things up "IN SCANDINAVIA, WE HAVE many dark hours in the winter," says Karin Gustavsson, a veteran creative lead at Ikea in Sweden. "Colour...
Colour Theory
Step out of your neutral-toned comfort zone with a few colourful accents that are guaranteed to inject joy and whimsy into your space As stylish as they are practical, these striped oven mitts come in...
Can Olivia Chow Fix Toronto?
After nearly four decades in politics and two runs for mayor, the 66-year-old is now leading a city in dire need of help. Her approach? A stubborn yet earnest optimism and a zeal for working with...
Grape Expectations
Newsflash: Gewürztraminer is not the best- or only–wine pairing for "Asian" cuisine RECENTLY, I CAME ACROSS a video of my first birthday party—also known in my big, fat British-Indian family as the...
THE CONVERSATION
Step inside a maximalist Halifax apartment filled with art, colour and pattern
It should come as no surprise that Musemo Handahu is the type to take inspiration from her surroundings. The fashion enthusiast has been creating content since 2012 under the name Miss Lion Hunter, a...
A LIFE COACH COULD HELP. HERE'S EVERYTHING YOU NEED TO KNOW
BY HER OWN ADMISSION, Lisa Murphy should have been happy. At 50, she had two thriving teenagers and a great marriage. She had recently left a successful career in media and was looking forward to...
Inside Canada's Growing Islamophobia Problem
Hate crimes against Muslims in Canada increased by 71 percent in 2021. More Muslims have been killed in targeted hate crimes in Canada over the past five years than in any other G7 country. Yet 50...
We Need to Talk About MENOPAUSE
We asked our readers to share their biggest questions and concerns about menopause, and wow, did you ever! We received more than 200 responses from people aged 27 to 75. What you told us informed the...
Your Most Common Menopause Fears—and How to Address Them
The good news? Evidence-based solutions exist, and they can help the vast majority of people 1 HOT FLASHES "My biggest fear is that my hot flashes will continue until I die. Not a day or...
A HEALTH COACH GETS REAL ABOUT THE IMPORTANCE OF STRENGTH TRAINING
"If there's any time in your life when you should exercise, it's during menopause," says Samantha Montpetit-Huynh, a Toronto-based online health coach who specializes in training midlife women. More...
5 WAYS TO MAKE WORKPLACES MORE MENO-INCLUSIVE
Nearly one-quarter of Canada's workforce is currently in perimenopause or post-menopause, according to a 2022 report from the Menopause Foundation of Canada (MFC). But between the persistent stigma...
Debunking Menopause Hormone Therapy Myths with Dr. Jen Gunter
Menopause hormone therapy (MHT) is in desperate need of a rebrand. Despite being considered the gold-standard treatment for hot flashes, night sweats and genito-urinary syndrome of menopause, it's...
THE SPREAD
All hands on deck! Add to the joy of cooking for others by cooking with them instead—and get dinner on the table faster in the process
1. My niece's boys, Johnny and James, love to sit at the kitchen table and fill dumplings with me. They run water around the edge of each dumpling wrapper and pinch or fold them closed in different...
LET'S GET CRACKIN'
In one of my kitchen notebooks, my youngest child drew a picture of his dream birthday breakfast. He was maybe four at the time. When finished, he proudly presented to me his rendition of a sunny-...
Salty, Sweet
Dive into fall with these seasonally inspired treats, which hit just the right spot between savoury snack and dessert It's autumn . Apple orchards beckon with U-Pick signs, dusky plums and grapes...
It's All About the Sides
We love a turkey, but the fixings are easily the star of our Thanksgiving table. This year, we're journeying into our archives to share our favourite recipes that have stood the test of time. Dig in!...
THE HEALING POWER OF AVÈNE
Get to know Avène, a French skincare brand with a very special ingredient that has legendary restorative properties: mineral-rich thermal water Nestled in the serene foothills of the south of France,...
THE TAKEAWAY
HOW TO SHARPEN A KNIFE
Sharpening a knife involves removing steel from either side of the blade to create a new edge. Most knives can be sharpened at home with a sharpening tool—it looks like a little clip, and you drag the...
WHAT KNIVES DO YOU REALLY NEED?
Even if you cook often, you don't need a full, multi-piece knife block. If you're starting from scratch, here are the three essential types of knives worth investing in. CHEF'S KNIFE Between slicing,...
Pomegranate Molasses
If you like eating pomegranate fresh, you'll love cooking with its sweet and tangy pantry counterpart WHAT IS IT? Pomegranates satisfy so many senses at once: Their arils (seeds) are lusciously red...
Myth-Busting the Top 5 Most Common Misconceptions about Filler
1 Dermal filler is a permanent and irreversible procedure, like plastic surgery. Not only is dermal filler non-permanent, it can also be reversed (via dissolving agents) if you're not happy...
Curious about Hyaluronic Acid Dermal Filler? Here's What You Need to Know
Hyaluronic acid dermal filler is safe, non-permanent, and can create natural-looking results — and yet, filler misconceptions abound. If you're intrigued by but also wary of hyaluronic acid dermal...
THE PERFECT CHOCOLATE CHIP COOKIE, ACCORDING TO SCIENCE
A cookie preference is highly personal. Chewy? Crispy? Crumbly? Here's an ingredient breakdown so you can create the CCC of your dreams THE "BEST" CHOCOLATE chip cookie is such a subjective concept....
THE BEAUTY AWARDS 2023
WE TESTED HUNDREDS OF PRODUCTS SO YOU DON'T HAVE TO
IF YOU'RE FEELING overwhelmed by the sheer volume of beauty products on store shelves, you're not alone. Great news: Chatelaine, Châtelaine and FASHION Magazine are here to help you cut through the...
MEET OUR JUDGES
ALEXIA BAILLARGEON Makeup artist ANDRÉANNE DION Senior style and beauty editor, Chatelaine ANIYA NANDY Makeup artist BERNADETTE MORRA Editor-in-chief, FASHION Magazine CATIA CORR Hairstylist and co-...
Fragrance BEST NEW FRAGRANCE
Tom Ford Electric Cherry Eau de Parfum $310 for 30 mL, sephora.com A fruity, floral perfume with notes of morello cherry, musk and jasmine, this juice is an instant classic. "It's an elegant...
Bath and Body
BEST NEW BATH AND BODY PRODUCT Nivea Nourishing Body Milk $15, shoppersdrugmart.ca This body lotion, which is formulated with skin-softening almond oil, provides deep hydration, fast absorption and a...
Hair and Nails
BEST NEW BLOWOUT CREAM Mela & Kera Balayage Exceptionnel Exquisite Blowout Crème $46, melaandkera.com Make your blowout go the distance with this lightweight cream, which provides hold, heat...
Thank you
You just used 1 credit. You have left.