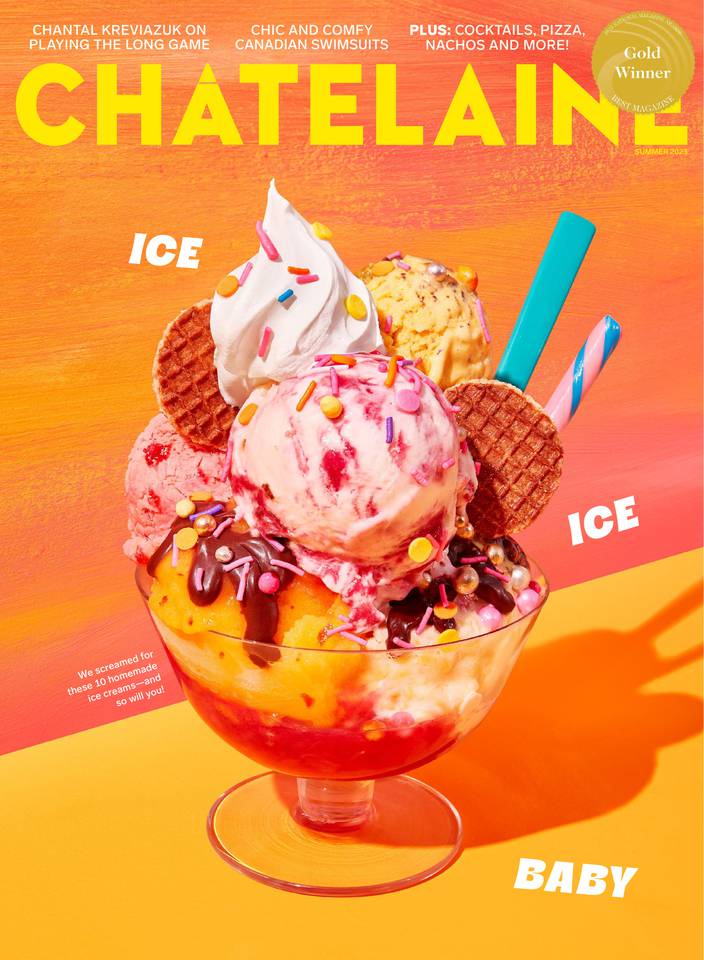 As Canada's largest women's brand, Chatelaine provides Canadian women with fresh, thought-provoking perspectives and inspired lifestyle solutions.
Summary
Peak Summer
WHEN WAS THE last time you had an aha moment? I had a major one while interviewing cognitive health expert Dr. Nicole Anderson for this issue. As regular readers know, my mom passed away last year...
Read More
February 2023
IN EVERY ISSUE
Peak Summer
WHEN WAS THE last time you had an aha moment? I had a major one while interviewing cognitive health expert Dr. Nicole Anderson for this issue. As regular readers know, my mom passed away last year...
Refresh your summer wardrobe for less
Five hot-weather must-haves from Giant Tiger that won't break the bank Summer is the only season in Canada when expert-level layering isn't a required skill. Rejoice in the opportunity to buy simple,...
THE DISH
A FEW SHRIMP TIPS
Fresh or frozen? Shell on or off? Some common crustacean Qs, answered. CHOOSE FROZEN, NOT FRESH Unless you live near a coastal fishery or are buying shrimp live and straight out of a tank, it's likely...
Shrimp Aguachile with Cucumber-Watermelon Salad
SERVES 4 Aguachile couldn't be a more straightforward name for this coastal Mexican dish: it translates to "chili water" and is a spicier cousin of citrus ceviche. This version isn't...
Great Expectations
Think maternity style is all flowy dresses and leggings? This editor shares how she's staying true to her personal style through her pregnancy Michelle da Silva MICHDAS 38, TORONTO The Globe and Mail...
Paging All Readers
Did you know that only 12 percent of books sold in Canada are written by Canadian authors, according to BookNet Canada? It's definitely not due to a dearth of top-notch talent. This summer, we're...
Carry-on Suitcases
We tested countless pieces of cabin-sized luggage to find the smoothest ride for every type of trip and traveller 1. FOR THE OVERPACKER Away The Bigger Carry-on Flex This chic carry-on is slightly...
How Much Water Do You Really Need to Drink Every Day?
YOU MIGHT HAVE seen an uptick in the num-ber of giant water jugs being toted around the office or gym lately and wondered, "Should I be doing that?" The answer is: not necessarily, though anything...
A Naturally Sweet Way to Rehydrate?
In search of a less cloying alternative to my go-to sports drink, I took maple water for a spin STAYING HYDRATED while you work out is extra important during the summer. As someone who hydrates...
Running in Circles
WOULD YOU RENT RUNNERS? What if we told you that you could get a new pair of kicks every time you need one while also helping close the loop on waste? Wildly popular performance apparel and footwear...
Vacation Mode
Here's how to put together a heatwave-proof look worthy of the French Riviera (even if you're just renting a rustic cottage) COVER STORY A chic chapeau, like this classic straw hat, doubles as sun...
Screen Time
Ready for a sun-soaked summer? At home or away, SPF is a m ust. These innovative form ulas have such luxurious textures that you'll want to drench yourself in them 1. Whether worn alone or under...
IN-FLIGHT ESSENTIALS
THE MULTI-TASKER Formulated to be used on lips, cheeks and eyes, this do-it-all stick provides a dewy wash of colour anywhere you need it. Ilia Multi-Stick, $47, sephora.com. THE HYDRATOR Give your...
A Clean Getaway
WHETHER YOU'RE STAYING close to home or heading abroad, a vacation is hopefully on your to-do list this summer. But after a few years of staying put, we could all use a refresher on how to pack...
Make an Outdoor Pendant Lamp
Capture some sunshine to keep the party going after dark THIS SUMMER, don't let darkness put a damper on your outdoor gatherings. Whether you're hosting alfresco dinner parties or want a cozy nook for...
Set the Table
When hosting a backyard bash, opt for an eclectic mix of vivid hues to get the (dinner) party started 1. Ceramic candle holder, $25, spiral candles, $8 for a set of 2, hm.com. 2....
AT HOME with Nani
I never imagined I'd have an 85-yearold roommate well into adulthood. But living with my grandmother has been a lesson in patience, humility and matriarchal love The new year started off like most...
CHANTAL KREVIAZUK IS DOING THE WORK
The singer is in it for the long haul—in her music, her philanthropy and her marriage THERE'S A SCENE in I'm Going to Break Your Heart—the 2019 documentary that follows Chantal Kreviazuk and her...
I Quit My Job to Make Bannock
Six years later, I've experienced great success—and I've also realized the importance of bringing our culture back to our people WHEN I was small, I spent a lot of time at my grandparents' place; it...
THE CONVERSATION
Dive into summer with an all-Canadian pool party
PRODUCED BY Andréanne Dion AND Sun Ngo PHOTOGRAPHY BY Christie Vuong SET STYLING BY Caitlin Doherty FASHION STYLING BY Talia Brown Thall HAIR AND MAKEUP BY Lateisha Grant NAILS BY Taylor Chousky...
SOME GOOD NEWS FROM MEMOR LANE
We all have momentary memory lapses—misplaced keys, forgotten names—that can make us feel like dementia is nigh. (Headlines along the lines of "Is it forgetfulness or Alzheimer's?" do not help.) But...
A Family Affair?
If you have a loved one with Alzheimer's, it's easy to assume you'll eventually get it too. But that's truly not the case CHILDREN OF PARENTS with Alzheimer's spend a lot of time thinking about what...
Memory: Is There an App for That?
Why you should exercise caution with brain games on your phone WHEN IT COMES TO brain health, easy hacks won't cut it. According to Toronto-based neuropsychologist Dr. Angela Troyer, we should be...
SLEEP ON IT
How catching some quality ZZZs can boost your memory Sleep is fundamental to brain health. If you don't sleep well, it can "cause daytime drowsiness, disrupt attention and learning and eventually...
What it feels like to be 95
This year marks Chatelaine's 95th anniversary. As part of our year-long celebration, we spoke with five other nonagenarians about their experiences of life at 95. All in all, they still feel young and...
SHE DID NOTHING WRONG. SHE WAS ARRESTED ANYWAY
In 2020, Breeanna Bascombe was detained on a murder-related charge. She was released, but her life will never be the same BBREEANNA BASCOMBE HAD BEEN UP ALL NIGHT. Tiana*, her six-month-old daughter...
THE SPREAD
This beloved Montreal pizza restaurant's first cookbook has every recipe you need for an endless-summer pizza party—backyard or balcony
If you've experienced Elena, the "coffee, pizza, wine" joint in Montreal's St-Henri neighbourhood, chances are you already know it's a different kind of eatery. "We think restaurants should be fun—a...
HAVE A BALL
Meatballs are a global love affair—who doesn't adore their umami appeal and radical flexibility in all sorts of dishes? These four very different takes offer a world of taste, but leave plenty of room...
Nacho Night
TEXT, RECIPES AND FOOD STYLING BY Lindsay Guscott PRODUCED BY Aimee Nishitoba PHOTOGRAPHY BY Christie Vuong Here's a bit of nacho trivia for you. The original recipe, created in 1941 by Ignacio...
IT'S A COOL, COOL WORLD
NOTHING IS MORE synonymous with summer than a massive helping of ice cream. The appeal is enduring: The Chatelaine Test Kitchen has been churning out scoops and sundaes since the 1930s, well be-fore...
THE TAKEAWAY
HOW TO COLD SMOKE
Fill a smoker maze with wood pellets (A), then place it on charcoal grate (B). Use a blowtorch to light the maze at one end; let pellets burn for two minutes, then blow out to release smoke. Place...
The Smoke Show
I grew up in a Filipino household, so ihawan (grilling) has always been a big part of my summer. Whether it's vegetables, seafood, meat or even fruit—anything that can be marinated, threaded onto a...
SUMMERTIME BLUES
If you haven't enjoyed a blue drink in a blue moon, it's time to change that. This nuanced, slightly spicy blender drink is about to become your official summer cocktail Blue Barachois PREP 5 MIN;...
THE SCIENCE OF MARINADES
WRITTEN BY Jennifer Pallian PRODUCED BY Sun Ngo PHOTOGRAPHY BY Christie Vuong FOOD STYLING BY Sage Dakota PROP STYLING BY Nicole Billark It's no secret that one of the best ways to tenderize and...
Mustard Powder
This hot and tangy seasoning does so much more than just make mustard WHAT IS IT? Mustard powder is made from a mix of finely ground mustard seeds, plus turmeric for flavour and colour. Unlike...
PURPLE CRUSH
Dragon Fruit Grater Cake PREP 5 MIN; TOTAL 25 MIN PLUS COOLING TIME SERVES 12 My mother had an obsession with the many sweet and earthy desserts of Jamaica. I wanted to reimagine grater...
Thank you
You just used 1 credit. You have left.