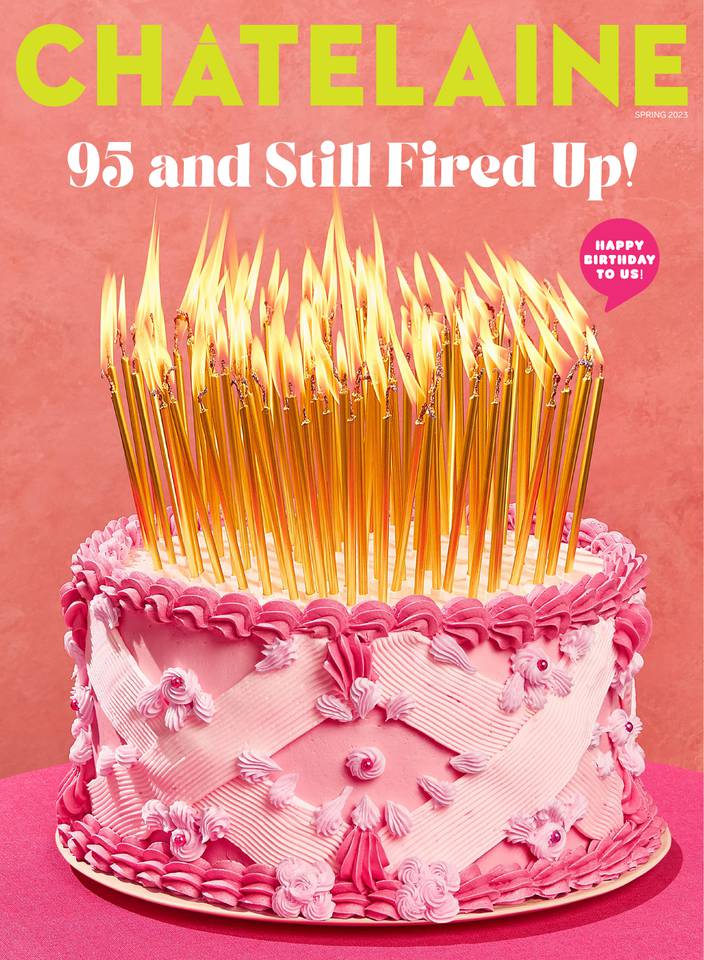 As Canada's largest women's brand, Chatelaine provides Canadian women with fresh, thought-provoking perspectives and inspired lifestyle solutions.
Summary
Go For Sweet
Let these maple-forward recipes steal the show at your next social gathering. MAPLE BLOOD-ORANGE CAMPARI PUNCH Makes: 12 portions Campari is an inviting start to a meal—it's not called an aperitif for...
Read More
January 2023
GO FOR SWEET
Go For Sweet
Let these maple-forward recipes steal the show at your next social gathering. MAPLE BLOOD-ORANGE CAMPARI PUNCH Makes: 12 portions Campari is an inviting start to a meal—it's not called an aperitif for...
IN EVERY ISSUE
Ninety-Flipping-Five!
In her inaugural editor's letter, way back in March 1928, Anne Elizabeth Wilson laid out Chatelaine's mandate: to cover "the multifarious and ever-growing questions which are uppermost in the minds of...
THE DISH
Welcome to WEEKNIGHT HERO—a simple, delicious slam-dunk recipe you'll want to cook again and again, any night of the week. Sugar Steak and Gochujang Roasted Potatoes
PREP 35 MIN; TOTAL 1 HR 35 MIN SERVES 4 Pour some sugar on me! Try this wickedly simple rub that doubles as a marinade: sugar and salt. Spread it over the steak the night before for the...
Gaga for gochujang! How to use it in everything
Gochujang is a versatile umami flavour bomb: a sweet, salty, fiery red pepper paste made of fermented soybeans, rice and sun-dried red chili pepper flakes. Gochujang Vinaigrette Whisk equal parts...
Built for Comfort
Meet an architectural historian who turns easygoing, lived-in fashion into an art form Erica Allen-Kim @ahistoryofarchitecture 43, TORONTO Erica Allen-Kim gets dressed the way an architect might...
It's Raining Books
Your spring reading forecast? Absolutely stellar Recommending books is a privilege I do not take lightly. When considering the slew of spring titles, I wanted to find fresh voices—writers who are...
Best on Board
We tasted more than 40 vegan cheeses to find the (sorry!) crème de la crème 1. THE CREAMIEST Miyoko's Creamery Double Cream Chive Cashew Cheese This California-based company cultures cashew milk using...
How to Fight Menopausal Weight Gain
Among the slew of indignities menopause can bring, weight gain is just one more poke in the eye. A change in routine—and mindset—can help The bad news "There are changes in metabolism that occur at...
Follow My Lead
This hands-free dog leash is great for walks and runs I've been a hands-free leash convert for years, having used this Kong model on countless walks with my highly energetic golden retriever, Meg,...
SOCKS APPEAL
A cute pair of socks might just be the easiest way to dress up your footwear for spring. Whether you put a twist on the preppy look, with frilly white chaussettes and classic black loafers, or load up...
Hot Off the Press
CUTTING DOWN ON TIME, money and potential UV damage from curing lamps—there are many reasons to try press-on nails. (They've come a long way since the '80s, we promise!) Pro nail artists Courtney...
Rest & Relaxation
Transform your bedroom into a dreamy sanctuary with earthy hues, nature-inspired textures and snooze-inducing scents 1. Functional and decorative, this mirror will add extra dimension to your space....
Propagate Your Plants
Cultivate a lush jungle vibe with what you already have Want to go from a few houseplants to full greenhouse glory? No garden centre shopping spree required. Plant propagation is easy: All you need is...
Divorced in Paradise
Leaving my wife meant finally giving myself permission to chase my own dreams instead IN 2021, I QUIT MY MARRIAGE. It wasn't an easy choice: My ex-wife and I had been together for a decade. But...
SEEING THE FOREST FOR THE TREES
Suzanne Simard has spent more than 40 years studying the mysteries of the forest. Now, her memoir is hitting the big screen—transforming how the world looks at trees ON A SUNNY DAY IN 2007, Suzanne...
Schmecks Appeal
Edna Staebler never set out to be a cookbook author—and it's that laid-back, convivial attitude that made her books so beloved, even decades later "MOTHER LOVES CAKE; she'll eat it for breakfast,...
THE CONVERSATION
5 Indigenous makers on the sustainable practices that define their work
Tania Larsson JEWELLERY DESIGNER YELLOWKNIFE GWICH'IN My mom and grandma always used the best materials available when sewing parkas and moccasins. It wasn't because they were wealthy—actually the...
On the Uptick
Lyme disease already affects thousands of Canadian women. The climate crisis could mean an even greater number of infections MAGGIE McCOLL FIRST HEARD the joke about Lyme disease at a public talk...
Meet the Woman Planning for the Next Pandemic
Dr. Joanne Liu has spent her career warning us about global health crises like Ebola and COVID-19. Now, she has the tools Canada needs to prepare for the Next Big Bad—if only, this time, we'll listen...
IN LABOUR AT HOME No Maternity Care. No Choice
When medical care is too far and difficult to reach, some rural Canadians are turning to unassisted home births for lack of a better option IN the wee hours of March 27, 2018, Nena Martens thought she...
THE SPREAD
Chef and writer Christine Flynn on the everyday magic of slowing down for dinner—and five recipes that, together or alone, make a delicious meal
DINNER, FOR ME, IS THE MOST IMPORTANT MEAL OF THE DAY. When shared with friends or family, it is an opportunity to bring people together over delicious food and good conversation. Eaten alone, dinner...
THE GRAIN COURSE
Grain salads are a big staple in my home. With a handful of ingredients, you can turn any grain into a nourishing and delicious lunch or dinner bowl. They can be eaten warm or cold, and a big batch...
Cake Forever!
The way we cook has changed a lot over the past century, but one thing remains constant: Cake is always a reason to celebrate. We dug through hundreds of issues to find recipes from every era of this...
THE TAKEAWAY
Decorate the cake of your dreams with a few hot tips on piped frosting
ICING ON THE CAKE Want to decorate a cake like our cover stunner? Here are nine easy methods using just three piping tips. The technique doesn't have to be perfect—just expressive. Have fun with it!...
Black Magic
Unlike its white or red counterparts, black vinegar does more than season food—it packs a transformative umami punch WHAT IS IT? As an all-purpose pantry staple, black vinegar has wide applications in...
THE SCIENCE OF DEEP-FRYING
SOMETIMES, ON A DRIZZLY WEEKEND, my husband, Adarsh, and I will pile the kids into the car for a trek to Vancouver's Punjabi Market for paper bags of piping-hot potato samosas and crisp, golden...
DRINK PINK!
Forget shaken or stirred, we prefer this make-ahead martini frozen La Zona Rosa PREP 5 MIN; TOTAL 5 MIN MAKES 6 DRINKS Grapefruit bitters aside, this is a classic gin martini—zesty, fresh...
Let's Get Crackin' Mini Egg Skillet Cookie
PREP 15 MIN; TOTAL 1 HR SERVES 8-10 What's better than cookies? A giant one that's easy to prep! Baked in one pan, this candy-egg-dotted skillet treat is sure to be an Easter hit. 2 ½ cups...
Thank you
You just used 1 credit. You have left.