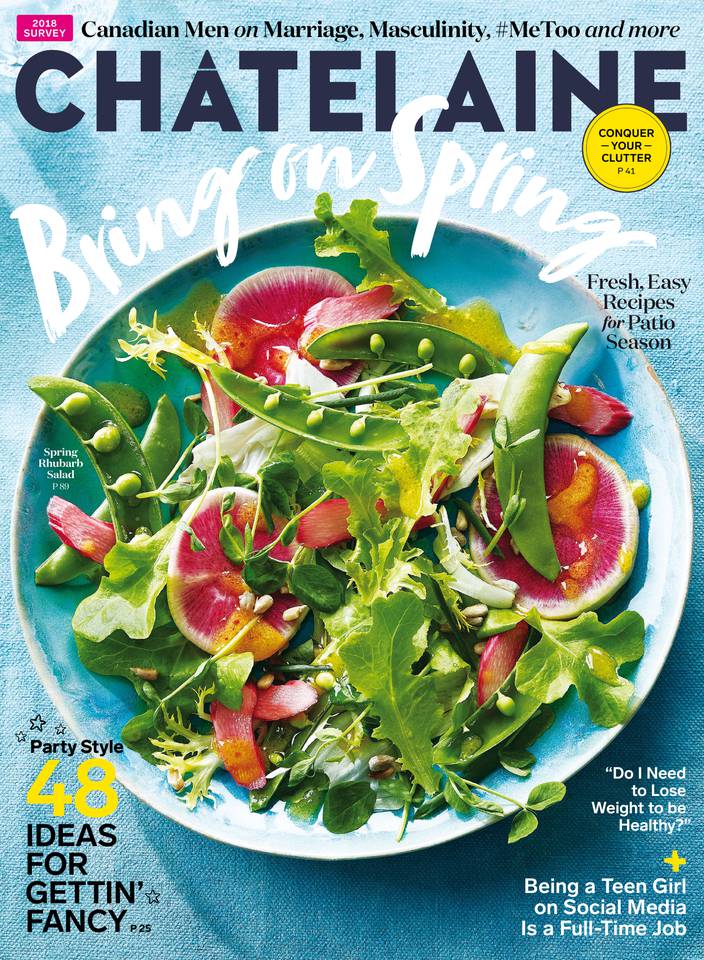 As Canada's largest women's brand, Chatelaine provides Canadian women with fresh, thought-provoking perspectives and inspired lifestyle solutions.
NOTEBOOK
Make it a picnic
The Victoria Day long weekend marks the unofficial start of summer, which means the unofficial start of eating heaps of food outdoors. Assemble your picnic kit with a colourful blanket, a few melamine...
Read More
May 2018
NOTEBOOK
Make it a picnic
The Victoria Day long weekend marks the unofficial start of summer, which means the unofficial start of eating heaps of food outdoors. Assemble your picnic kit with a colourful blanket, a few melamine...
STYLE
Green 'screens
Ditch the harsh chemicals and shield yourself with a mineral sunscreen 1. LaSpa SPF 20 Daily Sun Protection mineral sunscreen lotion, $44. This lightweight formula is gentle enough for your body and...
Dame Helen gets real
On International Women's Day, Helen Mirren — distinguished actor, L'Oréal Paris spokeswoman, actual dame — came to Toronto for the Women of Worth gala. Here's what she told us. On getting older...
1 FANCY FLORALS . . . Like a DUCHESS
When it comes to special-occasion dressing, Kate Middleton sticks to delicate textures and patterns like lace and florals. A garden-inspired print looks especially pretty on a fit-and-flare silhouette,...
2 HOLLYWOOD GLAM . . . Like a LEADING LADY
Meghan Markle is no stranger to the red carpet, and the newest royal brings plenty of charisma to the Windsor family. Take your cues from her style playbook and opt for sleek cutouts and see-through...
4 BOLD MONOCHROME
. . . Like a QUEEN Her Majesty's toneon-tone outfits are always polished, especially topped off with elegant jewellery. Vibrant colours and tweedy textures will keep a matching set from...
HOME
Catherine Cachia has a 100-year-old house and a two-year-old daughter,
which is another way of saying that the Toronto-based artist has zero closet space and a whole bunch of stuff. Instead of Marie Kondo–ing it all, however, Cachia got creative: hiding toys in vintage...
HEALTH
pro tip! Power plants
Which plants pack a protein punch? Registered dietitian (and Chatelaine staffer!) Emily Kichler spills the beans 1 Besides being cheap and easy to cook, dried lentils contain plenty of fibre and 10 g of...
Anatomy of a trend
A 2017 Nielsen market survey found that 43 percent of Canadians are trying to incorporate more plant-based foods into their diets. Considering that only 2 percent of Canadians are vegan, that's a lot...
DOES BIRTH CONTROL CAUSE DEPRESSION? The research
In an analysis published in the journal Contraception in February, Ohio researchers reviewed thousands of studies that looked at the effect on mental health of contraceptives, including injections,...
Q: I'm definitely heavier than I'd like to be, but I've worked hard to accept my body as it is. How do I know if I still need to lose weight for my health?
More than half of Canadian women (about 54 percent) are overweight or obese, and excess weight is a wellrecognized risk factor for many chronic conditions. Weight is, of course, profoundly linked to...
STOP THE SHEDDING AND GET YOUR VOLUME BACK
Is your hair health in need of a boost? Is it shedding and starting to look dull? Then try nourishing with Hair VolumeTM and experience the difference. Hair sheds for many reasons but typically...
Delayed reaction
After years of little to no movement, science is on the cusp of big advancements in the treatment of food allergies, raising hope that a cure could be on the horizon To understand the latest...
LIFE
How to be a man
With #MeToo, women are finally breaking their silence on abuse and harassment. But this conversation holds another opportunity, Rachel Giese writes: to start talking about how the rules of manhood are...
What's it like to be a man in 2018? Men & manliness
Chatelaine asked 1,000 men between 25 and 65 about growing up, fatherhood, work, masculinity, #MeToo and more. Here's what they told us Growing up, 57 percent of the men we surveyed believed that...
Sex & relationships
A whopping 49 percent say that, outside of sex-ed class, they got the bulk of their sexual education from friends. Where else did they get it from? 43 percent of men between the ages of 25 and 29...
We asked #feminist Prime Minister Justin Trudeau to mansplain being a man. Here's what he had to say about . . .
Where he learned what it meant to be a man "My father had a huge impact on me. [I learned that] being a man is to be strong and a source of support for those who need it. But he was born in 1919. He...
Work & home
42 percent of men say they are about where they thought they'd be in their career at this age. 31 percent say they're behind. 61 percent of respondents make more money than their partners (with 39...
Jane the Virgin's Justin Baldoni on the downside of being typecast as "Shirtless Guy #1"
In his viral 2017 TED Talk and his web series, Man Enough, Baldoni is aiming to redefine masculinity. What led you to think about masculinity and how to be a better man? As I've gotten a little older...
Best in show
Every year, Product of the Year Canada identifies the best new goods on the market. Here are some of the 2018 winners The red Product of the Year seal is your cue to purchase with confidence. Product of...
CONGRATULATIONS TO THE 2018 PRODUCT OF THE YEAR WINNERS!
Product of the Year rewards innovative new products, is voted on by consumers, and is celebrated in 42 countries across the globe. Learn more about these products at productoftheyear.ca 1....
In a suburban Toronto @Starbucks, three teenage girls huddle around a table, fingers flying... more
over their mobile screens as they break down the daily work of promoting their brands. Between sips of iced green-tea lemonades and java-chip frappuccinos, they tell me how they run new content...
FOOD
Take it outside
A SHAREABLE SEASONAL MENU TO GET YOU OUT OF THE KITCHEN AND ONTO THE PATIO THIS VICTORIA DAY PLANT-BASED Charcuterie Mushroom-Lentil Spread Serves 8 Prep 15 min; total 4 hr 35 min 2 tbsp butter 1...
The Dinner Plan
One shopping list, five easy weeknight meals 35 minutes or less MONDAY Pan-Fried Mackerel with Potato-Watercress Salad Serves 4 Prep 20 min; total 30 min 680 g new potatoes, halved 3 slices...
IN EVERY ISSUE
In the hot seat December 1983
The times U.S. president Ronald Reagan established Martin Luther King Jr. Day, McDonald's debuted the Chicken McNugget and members of Kiss appeared on MTV without makeup. The accolade Canada's sexiest...
Thank you
You just used 1 credit. You have left.